We love helping other companies develop their XR ideas. What follows is a collection of the latest projects MefistoFiles has been involved with. Please note that some of our jobs are under NDA or unreleased; this section will be updated as soon as we can talk about them.
---
SuperSphereVR ArcRunner
Full Virtual Production Platform for creating, recording, managing and broadcasting Virtual Concerts to consume within Oculus Venues and other VR platforms. The tool gave our client the possibility to deliver incredible concerts from artists like Major Lazer, Steve Aoki or Kid Cudi to tens of thousands of VR gig-goers with an small team and budget, in just a few weeks.
---
Vodafone 5G World
Core architecture and DevOps for Vodafone's "Metaverse", which brings multiplatform VR and AR into a single platform with scalable content. Over 60+ developers successfully collaborate and provide content for this metaverse thanks to our foundational work.
---
Vodafone NReal
A world first! Demonstrating the day-to-day productivity applications of AR glasses. This project was pivotal for Vodafone to start selling AR glasses.
---
Mastercard AR Ski experience
Worked for Mastercard creating an AR Ski game presented as a diorama. It was created for the Hahnenkamm Race and it also features a explore mode to discover more about the course.
---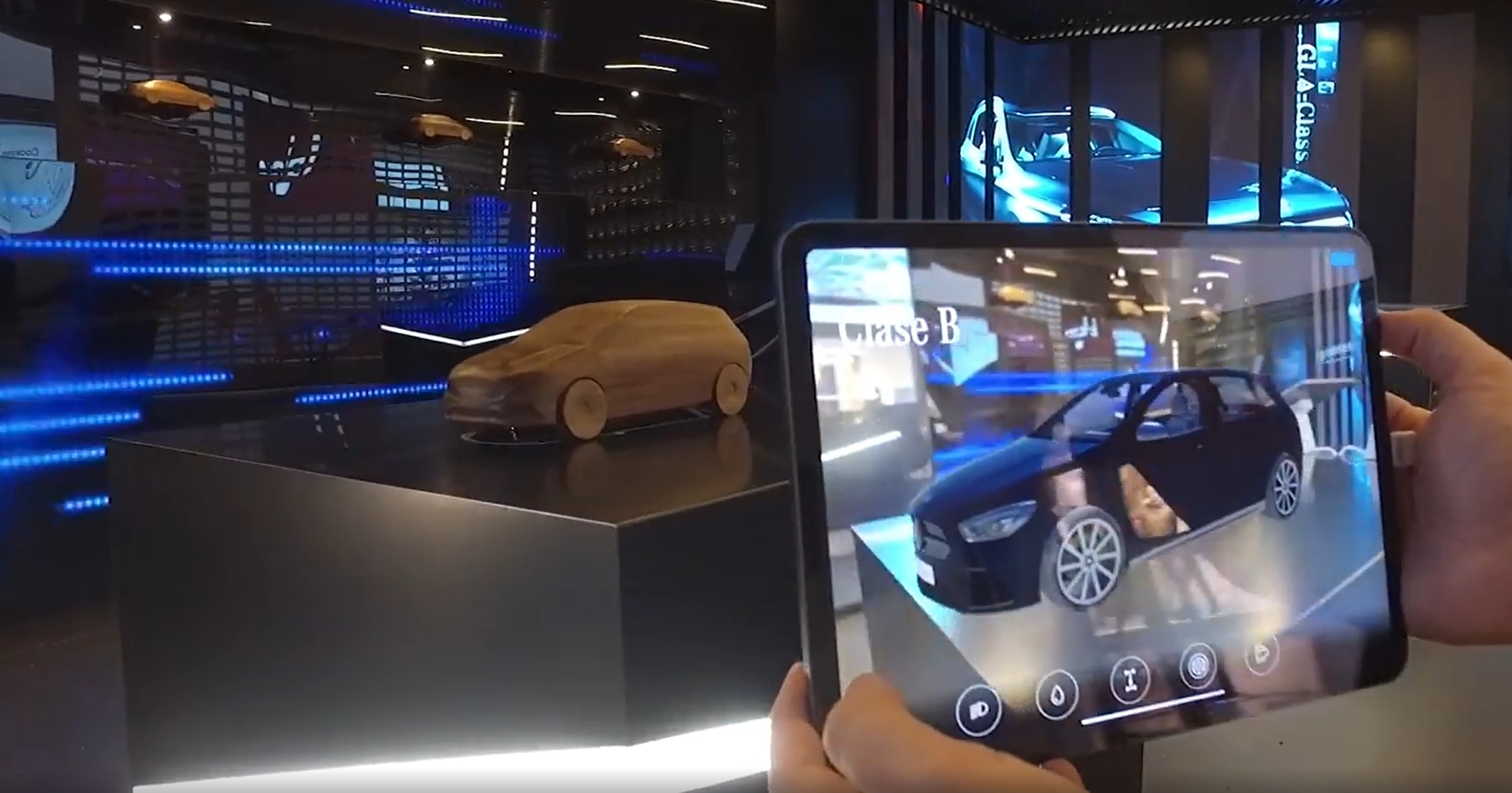 Mercedes Benz AR shop display
A mix between shop display and art installation for Mercedes Benz. Where users can overlay the cars on wooden sculptures and fully configure them. This project features not only custom object recognition to maximise stability in adverse tracking conditions, but shaders for performance and sensors.
---
Oxfam: Together we are Victoria
Collaboration with Oxfam in order to create a realistic and easy to use face tracked character that women in Colombia can use to anonymously denounce sexist violence.
---
Gorillaz x G-Shock Interview
Helped Gorillaz with their interview with Mr. Ebi, G-Shock CEO, as they return from their space mission.
---
Da Vinci "Los Rostros del Genio"
Commissioned work for an exposition about Leonardo da Vinci happening at the Spanish National Library. The app merges seamlessly video and 3D content to create an Augmented Reality experience that fully integrates the visitors' faces in different muscle layouts from realistic to hand drawn.
---
Spatial First
Creation of the technology that fuses exterior and interior maps in order to showcase properties and navigate them in a natural way thanks to Augmented Reality.
It won an AWE and was a finalist at the MagicLeap Innovators Competition.
---
Looking Glass VR
Looking Glass VR is a mobile VR based 3D photo viewer which brings hundreds of historic 3D photos from around the world into focus.
Platform: GearVR, Oculus GO
---
VR Regatta
VR Regatta is a virtual reality sailing experience for people of all ages. It's for sailors of all sailing experience levels.
Platforms: HTC Vive and Oculus Rift
---
Naff Naff
Naff Naff is a travel app that takes to you the most interesting places in the world thanks to a huge and dynamic collection of 360° images and data.
Platforms: Daydream and GearVR